The project "Youth Social Entrepreneurship Skills Development Program" organized by "Bridge to the Future" Youth Public Union with the support of the Agency for State Support to Non-Governmental Organizations of the Republic of Azerbaijan ended with final event of the Forum.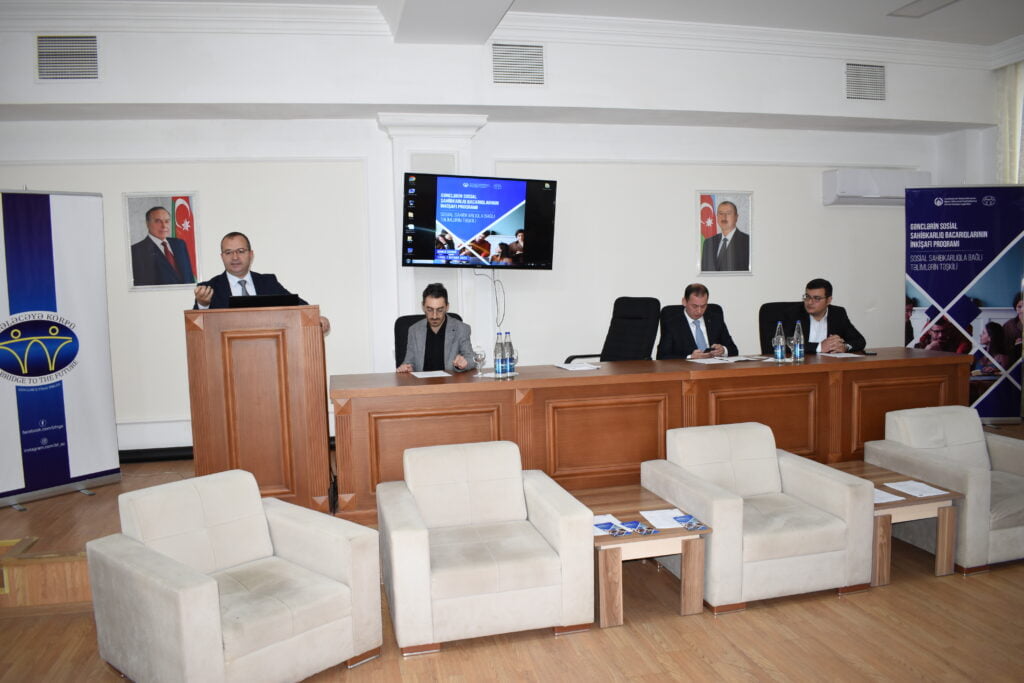 In the 1st phase of the project, between 13-15th October, 2023 training course gathered selected 25 participants in Ganja engaged in sessions covering key topics, including "Understanding Social Entrepreneurship," "Distinguishing Social Entrepreneurship from Charity," "Business Model Canvas Explanation," and "Donor Identification." Additionally, young participants collaborated on different projects team work, delivered presentations, and participated in energizing activities based on non-formal education methods.
On October 25, 2023, the final event of the project, the Forum event on "Social entrepreneurship: potential opportunities, current situation and expectations" was held in Ganja. At the event, Parviz Aliyev, head of the Analysis and Work with Partners Department of the Ganja-Dashkasan Regional Employment Branch of the State Employment Agency, Anar Aliyev, the coordinator of the Ganja-Kazakh regional coordination office of the Small and Medium Business (SMB) Development Agency, Tural Rustamov, a startup specialist of the Innovation Center of the Azerbaijan Technology University, and "Tamas Sarvi" LLC SOCIAL ENTREPRENEURSHIP the founders of the enterprise Kübra Alakbarova and Sudaba Mammadova participated. Presentations were made about the relevant services and programs of the institutions participating in the forum, including a panel discussion on the field of social entrepreneurship, and the questions of the event participants were answered. The forum event ended with the presentations of the project ideas on social entrepreneurship prepared by the participants of the training course.
The project's main objective is to educate young people residing in Ganja, encouraging them to explore the concept of social entrepreneurship, express their ideas in this field, and establish partnerships with both governmental and private institutions to promote social entrepreneurship.
It should be noted that the training course phase of the project was implemented in partnership with the "ASAN Volunteers" Organization.
Dostlarınızla Paylaşın